As an 8x Salesforce Certified Professional, I spent a lot of time, energy, and money earning my Salesforce credentials. The last thing I want to do is lose them.
Thankfully, Salesforce just released a credential status request tool that helps you keep your Salesforce credentials up-to-date. Specifically, the tool tracks which Salesforce credentials you currently hold, which release exams are required to maintain your Salesforce credentials, and when you must complete your required release exams.
I learned about the tool today in an email I received from Salesforce. It read:
Hey, Trailblazer! You've worked hard to earn your Salesforce credentials, and now it's easier than ever to stay up-to-date on your maintenance requirements! The new Credential Status Request tool was designed with you in mind and puts you in control by enabling you to request your maintenance requirements on demand whenever you want them.

How it Works
You can access the Credential Status Request tool from the certification website. Simply enter your Webassessor email or username, and voila! You will receive an email in moments with a list of all your credentials, your required release exam(s) and the due date(s), outlined in a handy table.

Don't worry–if you forget to check your credential status on your own, we will also be sending automated reminders every other month to your inbox so you can stay informed on your maintenance requirements. Keep a look out for your first automated reminder in January!

Check out our handy knowledge article for additional details about the new tool.

Have Additional Questions?
Visit Guided Help to find answers to common certification program questions. Go to the certification website and select Guided Help in the upper right corner. Can't find the answer you're looking for? Open a case directly with us through Guided Help!
Finally, the riddle has been solved! The best part is, it takes less than a minute to get the status of your Salesforce credentials.
What you need to do right now
Do you know the status of your Salesforce credentials? If not, you need to take the following actions right now.
2. Enter your Webassessor email address or username
3. Check "I'm not a robot" and click Submit Request
4. Wait 30 seconds and check your inbox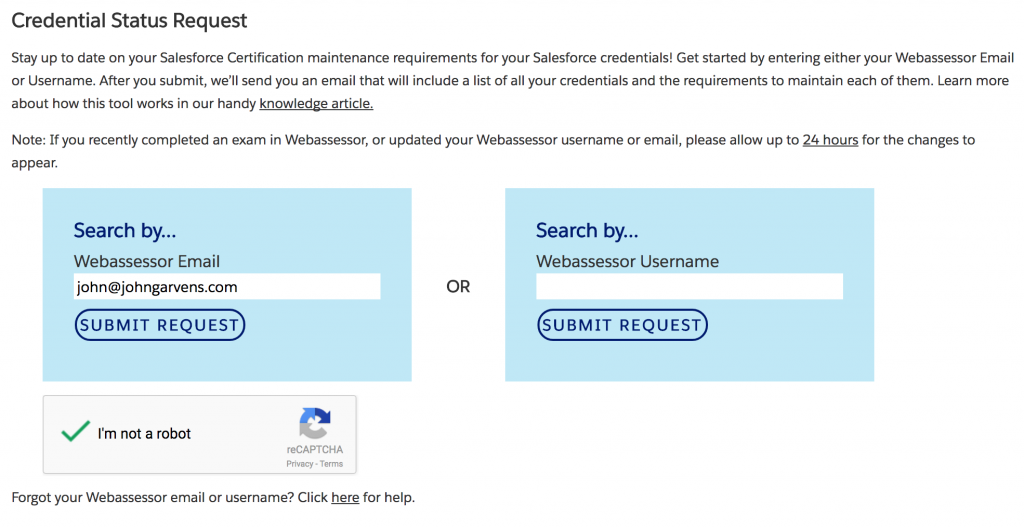 Yes, it is that easy to get the status of your Salesforce credentials.
How it looks
Once you submit your request, you will get an email containing the status of your Salesforce credentials, all of them. It reads:
Hi John Garvens,
Smart move! We received your credential status request and are glad to see you staying on top of maintaining your Salesforce Credentials!

At the bottom of this email you will find all the information you need to maintain your credentials as of today, December 6, 2017 (Pacific Time).

Keep in mind:

If you just completed an exam, it can take up to 24 hours for the changes to appear.
The table below will not provide the timeline for your annual maintenance fees. Click here to get more information about the cost to maintain a credential.
You can always stay up-to-date on our maintenance dates here to know when the next release will launch.
The table below provides the release exams you must complete to be fully current on maintaining your credentials. You can click on the hyperlink for specific details about each release exam.
There are some credentials that have special maintenance requirements. If you see a sentence like Review your maintenance requirements here, be sure to click on the link to understand your special requirements.

Maintaining Your Credentials

You've worked hard for your Salesforce credentials. Be sure to keep them up-to-date! Bookmark these useful articles for quick reference:

Your Credential Status:

Dont let your hard earned credential expire! If you do not complete all required release exams by their due date, your credential will expire, or in some cases, become suspended. For more information, click here.

Have a Question? Visit our Certification website and select Guided Help in the upper right corner for answers to Certification program questions.
"What?! How am I behind?!"
Do not freak out if you see you are "2 Release Exams Behind." You have until March 30, 2018 to complete the Summer '17 release exam and until July 13, 2018 to complete the Winter '18 release exam.
Still, you want to complete your Salesforce release exams as soon as possible. You worked hard to earn your Salesforce credentials. Do not let them expire on you!