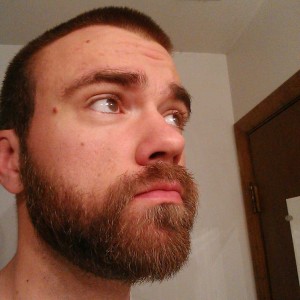 I stared into my bathroom mirror with a feeling of sadness.
"In two months, I grew the best beard that I have ever grown," I thought. "And now, I have to shave."
I looked back on all of the fun times that we had together. Poking and scratching my girlfriends face. Storing bits of food for later consumption. Sanding pieces of wood. Manly activities that only a man and his beard can enjoy together.
It was a Saturday morning. It was the last day that I would spend with my burly buddy. On Sunday, I had a military commitment requiring me to shave.
Not one to do things "low key," I flexed my creative muscle and started trimming. Ten minutes later, I stopped trimming and peered into the mirror before me. "That," I said to myself, "is quite possibly the manliest beard that I have ever seen in my entire life."
Friendly Mutton Chops with Soul Patch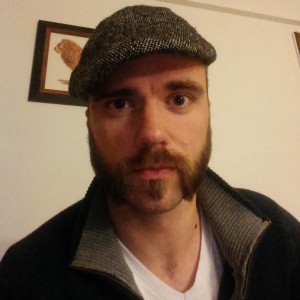 When I looked at my beard, I smiled. Then, I laughed. Then, I wept for joy. Never before had I seen something so rugged, so masculine, so bold.
I wore my beard proudly that day. Not long after I created my masterpiece, I went to the gym to train. Many double-takes were taken as I walked from the lobby to the locker room. Men stared with their mouths agape amazed by the quality of my beard. Women swooned.
That night, I went with friends to Kingston Mines in Chicago for a night of live blues music. As I stood by the bar, a young woman crossed my path.
She looked at my beard once. No reaction. She saw my creation from the side and mistook it for a "regular" beard. Still manly, not mesmerizing. But when she looked at my beard a second time, she stopped, smiled widely and said, "Nice chops, dude!"
They were nice chops. Nice chops that disappeared the following day. But not before I had a little more fun.
Fu Manchu with Soul Patch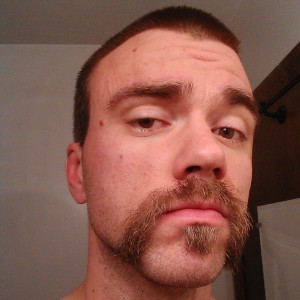 On Sunday, I arose early. I still needed to prepare my uniform and remove the carpet covering my face. So I walked to the bathroom, picked up my trimmer and continued the beard removal process.
My heart sank as I turned on my clippers. In a matter of moments, my beard would disappear forever (read: until I have another stretch of time without military commitments).
Five minutes later, I ended with this. I think it speaks for itself.
Guy Fawkes-ish Beard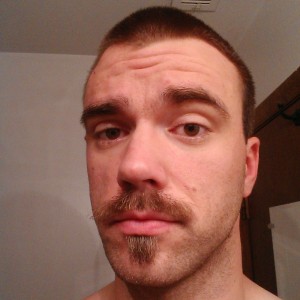 Inspired by the facial hair style of the protagonist from the film "V for Vendetta," I decided to streamline my look and class it up a bit. Especially since the last style I tried gave me the urge to bathe in axel grease.
As you can tell from my face, I was not entirely sure how to feel about this facial hair style. I thought it seemed a bit pretentious and made me look like a bit of a douchebag.
But I digress.
Hitler 'Stache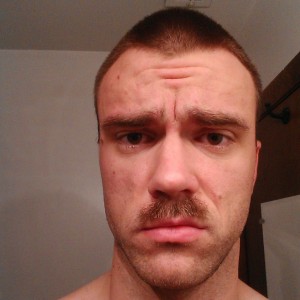 Based on my facial hair experiment, I drew a conclusion: The "Hitler 'Stache" does not look good on anyone. Not even Hitler.
And it looks particularly awful on me. See?
Despite the fact that mustaches are allowed in the military, I highly doubt that I will ever wear one. Unless, of course, my aim is to mock them.
Mustaches just have a certain "creepiness" about them that most mustache wearers cannot seem to shake. And they seem to be a prerequisite for appearances on shows like "To Catch a Predator" and "Cheaters."
Baby Face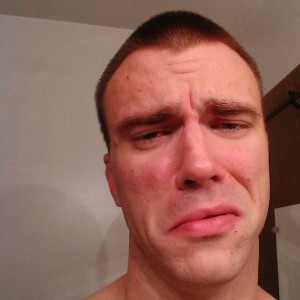 Alas, we get to the end of our journey. Hopefully, you enjoyed yourself.
My final picture for you is a simple reflection of my inner-most feeling following the removal of my beard.
As you can see, I look like a toddler without facial hair. And looking like a toddler makes me sad.
So I will continue to grow facial hair whenever I can. At least I will look manly most of the time.

What is your favorite style of facial hair? Leave a comment and share your answer.