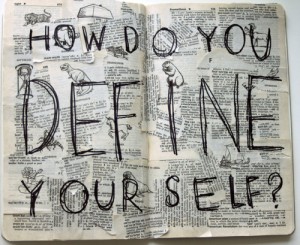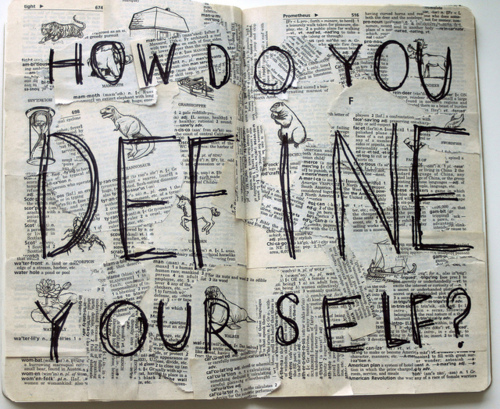 In November 2008, I reached a low in my life.
I experienced a number of setbacks in the preceding months that made me feel like a failure:
I dropped out of graduate school failing some classes along the way.
My girlfriend dumped me for being a douchebag.
I worked at a job that I hated.
I had no direction or prospects for the future.
Unsure of what to do, I reached out to some of my mentors for advice.
How do people define themselves?
Some people use their job description as a self-description.
I am the head of sales operations for a software company.
Some even use their relationships or other affiliations.
I am _____'s boyfriend/girlfriend/wife/husband.

I am a member of _____.
Others use their belief system.
I am an atheist.

I am a minimalist.

I am a libertarian.
Defining yourself is a highly personal process, and no method of defining yourself is "wrong." You must decide what method of self-description works best for you. There are, however, some problems with the previously mentioned methods of self-description.
Defining yourself by your job title
Hi. My name is John. I am a sales operations coordinator for a software company.
Too often, we fall into the trap of using our job description as our self-description.
Several years ago, one of my undergraduate professors gave me some advice:
What you do is not who you are.  They are 2 separate things.  Certainly, who you are influences what you do and how you do it.  However, who you are as an individual is determined by the values you embrace, not by what you do.  Financial or occupational success is irrelevant without a sense of who you are and what is truly important.
While your job description may be an effective way to introduce yourself at professional networking conferences, it is a largely ineffective way to introduce yourself in everyday situations. Yes, people learn a little bit about you, but your job description is only one part of who you are. If you rely on it too heavily for your self-description, you will sound one-dimensional which is not one anyone wants, especially your new acquaintance.
Remember that you get one chance to make a great first impression. Whether you like it or not, that impression will form the basis of the relationship that you form with the other person. Make it count.
Defining yourself by your relationships
Hi. My name is John. I am in a relationship with/friends with/a member of _____.
Relationships are an important part of life, but it important to make a distinction between your relationships and you. Remember, you are not your relationships.
We have all seen examples of people who use their relationships, romantic or otherwise, to define themselves. Yes, it is okay to introduce yourself as someone's significant other or speak highly of your family and friends; however, you must maintain your sense of self.
If you allow a relationship to define you and that relationship ends for whatever reason, you lose your identity. Truthfully, if you allowed a relationship to define you, then you had no identity anyways.
Aristotle said, "It is the mark of an educated mind to be able to entertain a thought without accepting it." Relationships work in a similar way. It is the mark of a strong character to maintain your sense of self.
Defining yourself by your belief system
Hi. My name is John. I am an atheist, libertarian, and minimalist.
Belief systems, or philosophies, are a third way to define yourself. Every belief system contains a set of values. When you define yourself using a belief system, you express your personal values.
People subscribe to belief systems that support their existing values. That is why, for example, there are so many denominations in Christianity. Someone did not like the way that someone else interpreted the Bible (which is interpreted differently by everyone), so they made their own club.
When a person finds that a belief system no longer reflects their core values, they must make a decision: modify their core values or find a new belief system. Most people choose the latter.
The problem with defining yourself
No matter what method of self-definition you choose, they are all subject to misinterpretation. Everyone has biases, and those biases will reflect the way a person interprets your self-description.
For example, I describe myself as an atheist because I do not believe in the existence of God (or gods). I also describe myself as an atheist because many people, especially religious people, do not know the true definition of "agnostic."
Calling myself an atheist, however, introduced a new set of problems. Now, instead of people mistakenly thinking that I am one of those "spiritual but not religious" people, people now assume that I worship the devil. (I do not believe in the devil either.)
My point is that the way you define yourself will be interpreted differently by everyone. Be prepared to elaborate on your self-description and clarify points of confusion.
How should you define yourself?
Think of defining yourself like a 30-second pitch. In business, 30-second pitches are used to introduce either yourself–or your business–in an effective, efficient manner. You want to use that same idea to introduce yourself in the other areas of life.
With a 30-second pitch, you want to answer two questions:
Who are you?
Why should I care?
It sounds harsh, but no one cares about you, not at first anyways. You need to make them care about you, and you accomplish this with the way you define yourself.