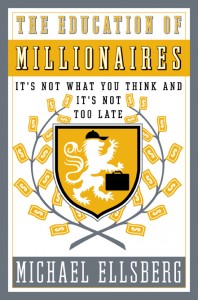 Last week, I finished reading Michael Ellsberg's newest book–The Education of Millionaires: It's Not What You Think, and It's Not Too Late.
I have to say that it was one of the best books that I've read in a very long time. Most of the lessons contained within the book either validated what I already believed or altered my perception to see things in a new way. While it had a tendency to get a bit "preachy" from time to time, I thought that it was definitely a worthwhile read. In fact, I plan on using it as a reference as I start my own business.
Ellsberg starts his book with a healthy dose of honesty.
You've been fed a lie. The lie is that if you study hard in school, get good grades, get into a good college, and get a degree, then your success in life is guaranteed.

This might have been true fifty years ago. But it is no longer true today.

If you want to succeed now, then you must also educate yourself in the real-world skills, capabilities, and mind-sets that will get you ahead outside of the classroom. This is true whether you've been to college or not.
Following the introduction, Ellsberg treats each chapter as an individual "course" in how to develop the seven success skills:
How to Make Your Work Meaningful and Your Meaning Work
How to Find Great Mentors and Teachers, Connect with Powerful and Influential People, and Build a World-Class Network
What Every Successful Person Needs to Know About Marketing, and How to Teach Yourself
What Every Successful Person Needs to Know about Sales, and How to Teach Yourself
How to Invest for Success
Build the Brand of You
The Entrepreneurial Mind-set versus the Employee Mind-set: Become the Author of Your Own Life
Ellsberg argues that if a person possesses these seven skills that there is little that can stand in their way on the road to success. And while few go on to become millionaires/billionaires, you will find that it is not impossibly difficult (or risky) to start your own business.