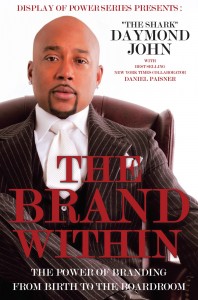 Daymond John is an investor on Shark Tank, a popular reality TV show on ABC where hungry entrepreneurs pitch their business ideas to a panel of equally hungry "sharks" looking to make money.
Born to humble beginnings, Daymond John hustled his way from the streets of New York City to the top of the business world by creating one of the most popular fashion brands in the United States: FUBU. Now a billionaire, Daymond John's story shows how anyone can achieve their dreams if they work hard and hustle.
I started watching Shark Tank following the recommendation of a friend who knew that I loved the idea of entrepreneurship. Watching Shark Tank, I grew to admire Daymond John. While the other business leaders who sit on the Shark Tank panel were equally savvy investors, Daymond John was, to me, the shrewdest.
Daymond's approach is cold and calculating. He shows very little emotion and makes very few deals. When he does make a deal, his offer is always fair to the entrepreneur making their pitch. He remembers what it was like to be a young entrepreneur hungry for success, and I respect that.
After watching several episodes of Shark Tank, I could tell that Daymond John is highly regarded among the sharks as a branding expert. As someone with a keen interest in corporate and personal branding, I wanted to learn more about Daymond's branding philosophy.
I spent some time researching Daymond John and found a wealth of information including a fantastic interview on Entrepreneur.com. This interview inspired me to find and purchase one of Daymond's books, The Brand Within, on Amazon.
About the book
The Brand Within: The Power of Branding from Birth to the Boardroom is a fascinating look into the life, business, and mind of Daymond John. In short, the book is fantastic.
Throughout the book, Daymond gives several examples of branding and the ways it shaped the lives of people and businesses over time:
Michael Jackson's personal branding roller coaster
Eliot Spitzer and his affair with Ashley Dupree, a high-end call girl
Tiger Woods' rise to power and fall from grace
Barack Obama's journey from community organizer to President of the United States
Daymond even creates a fictional business, "Thick 'n Sweet" maple syrup, to illustrate how to build a brand from nothing and Daymond's four stages of brand development: item, label, brand, and lifestyle. This, along with countless other examples, sheds light on Daymond's approach to branding and the way he thinks about business.
The importance of branding for yourself and your business
From the day you're born, you're branding yourself as some thing or another. . . . We pile one personal choice on top of another personal choice, one impulse on top of the next impulse, until one day we're standing on top of a mountain of choices and impulses, and how we stand (and, how high) tells the world everything it needs to know about who we are and where we've been and what we hope to accomplish.
For Daymond John, branding is critically important. Both people and businesses must be aware of the way in which their brands are seen by the public.
In this excerpt, Daymond is speaking about personal branding, but the principles apply to business as well. Every action a business takes will create an impression in the people who witness it. Those people could be your prospects, customers, suppliers, competitors, etc. Every one of those entities will judge your business based on the way they perceive the actions taken by your business.
It is important to know what people think about you and your business. While you should not necessarily live (or do business) for others, it is wise to be aware of the way your personal and/or corporate brand comes across to outsiders.
You may find that everything is going according to plan: people love your brand, trust your brand implicitly, and tell others about your brand on a regular basis. On the other hand, you may find that the opposite is true. You must listen to all sides with an open mind and take action if you find something that you need to fix.
You must also remember that not all opinions carry equal weight. You cannot (and should not) take action on every opinion that you hear about yourself or your business. It will make you (or your business) look fickle. Stand by your brand with conviction, but keep an ear to the ground and listen for things that you need to change.
Using emotional attachment to connect your customers to your brand
Today's consumer wants more and more to belong to a brand, a movement, an ideal, while our entrepreneurs and business leaders look more and more to tap into that ready loyalty to build recognizable, sustainable brands, to create an interactive environment and a sense of virtual community, to help launch new product lines, to reintroduce or reinvigorate tired old items or trademarks or sandwich cookies that have fallen out of favor. . . . The idea is to create emotional attachment between your target customer and your product. . . . Remember, your customers don't just want to buy your clothes or your fragrance or your beverage. They want to belong to a movement, a lifestyle . . .
People need to belong.
The need to belong is deeply engrained in human psychology. Developed over tens of thousands of generations, the need to belong can be seen in nearly every facet of human life. People join social clubs and professional organizations, support regional sports teams, and attend seminars and conventions to surround ourselves with like-minded individuals. Sometimes, we even brand ourselves to belong to a product or service.
Do you remember the "I'm a Mac" commercials produced by Apple starting in the fall of 2008? It is a classic example of the human need to belong. It shows two characters: a fun, cool "Mac" and a boring, totally uncool "PC."
Whether they admit it or not, people want to hang out with the cool kids. From the beginning, Apple has consistently positioned itself as the cool kid. With the "I'm a Mac" campaign, Apple took that positioning to the next level and made people want to do more than buy another computer: Apple made people want to belong to their brand.
Apple does not need to do too much to convince its customers to buy its next product because their customers want to buy their next product before Apple even imagines it. Over time, Apple has built so much loyalty to its products that the simple mention of a "new version" will have Apple fans lining up in front of their stores for days.
Why your brand must offer an unparalleled customer experience
The idea is to build a viable, sustainable business, not some fly-by-night operation. . . . If you want to really bite into some market share, you've got to add value to your customers' experience. Consistently. Deliberately. Genuinely. . . . Do right by your customers this one time, and they'll do right by you the next time, and the time after that. . . . You want to keep a good thing going. Play it right and your customers will follow you anywhere, as long as there's a legitimate point of connection with the core product or service that earned that allegiance in the first place.
If you look at the world's most-loved brands (Amazon, Apple, Whole Foods, etc.), you see an obsession with customer experience. These companies realize that, without customers, your business does not exist.
For Daymond John, customer experience is everything. Many businesses make the mistake of going after quick wins forgetting the long-term well-being of their company. They would rather double their sales now than quadruple their sales later.
A person's experience with your personal or corporate brand lays the foundation for your business. Without an exceptional customer experience today, you will not have an opportunity to deliver an exceptional customer experience tomorrow. You can either provide value to your customers, or you can watch your customers provide value to your competitor. The choice is yours.
Why first impressions are crucial to the success of your brand
Like it or not, believe it or not, embrace it or not . . . people judge you in the first ten seconds after meeting you. This is not necessarily a good thing or a bad thing, but it's very definitely a thing, and we'll latch onto it if we're smart. . . . We create a constant, fluid, ever-changing impression, and we need to pay attention to that impression at every turn, or else our "brand" will get away from us. . . . It's the impression of the moment that counts. It's how you come across when you come across. . . . We make a first impression, and a second impression, and eventually a lasting impression, but let's never forget that we can choose to respond in a positive, hopeful way to an unexpected turn, or we can choose to make it a disappointment. . . . Think of each day like a series of pitch meetings or job interviews. You want to get the gig, so put your best foot forward. At every turn.
First impressions determine the fate of your brand. If you make a great first impression, you are well on your way to success. Good first impressions put you on the short list; bad first impressions put you in the trash.
Save yourself from a world of misery (and business failure) and make a good first impression. Remember, you can only make one first impression, so make it count. If you know that you are going to meet someone new, go the extra mile to ensure that your first impression with them is a good one.
Developing sales skills for business and life
We're all in sales–in one way or another. We sell ourselves to our boss, to our friends and co-workers, to our families, and we need to understand this as well.
Everyone sells. We sell ourselves to our customers, our employers, our significant others, our friends, and more. It does not matter if you love sales or hate sales. You are playing the sales game whether you like it or not, so it makes sense to learn how to sell. If you learn how to sell and become good at it, you will reap huge returns over the course of your life: more money, more friends, more opportunities.
"But, I don't want to sell," you say. "Sales people are sleazy."
You do not need to be sleazy to sell. You need to be authentic. You need to believe that what you sell is going to make a real difference in the lives of others. As Daymond writes in his book, "At the end of the day, the easiest thing to sell is the truth."
The best products, and services solve problems. If your product or service can solve the problems of another person or another business, then you have a moral obligation to sell it to them. The price is entirely up to you. You can sell your product or service for $1; you can sell your product or service for $5 million. If you hate the idea of getting paid to improve the lives of other people, then sell your product or service for $0.
It is interesting to me that we happily accept a salary of $40,000 or more from our employer, yet we feel morally corrupt when we sell a $5 item to someone knowing that it will improve the quality of their life. If you add value to another person's life, you deserve compensation.
Opportunities come to those who hustle . . . and hustle hard
If you mean to be an opportunist, you've got to be out there hustling for opportunities, not sitting on your hands at home coming up with a sorry list of reasons why you'll never amount to much.
People are fascinating. They love songs like "Billionaire," yet they despise actual billionaires for being billionaires. (Jealousy expresses itself in a variety of ways.) Instead of hustling hard to achieve their dreams of becoming billionaires, people buy lottery tickets and whine about how the 1% makes too much money.
Daymond John's story proves that you can start with nothing, build a business, and become rich. You just need to hustle every day. Patience and persistence are the key to achieving your dreams.
"But, I'm not as _____ as Daymond John," you say.
Stop making excuses and start taking action.
Daymond started by selling handmade t-shirts out of a duffle bag. Today, he owns numerous companies in a variety of industries, most notably FUBU. He did not start at the top. Like most entrepreneurs, he started at the bottom and worked his ass off. Along the way, he experienced good times and bad times. Regardless of how he felt, he moved forward every day never bothering to make excuses because excuses are a waste of time.
Out-hustle your competition by being nimble, reactive, and flexible
This is the nut of today's marketplace: you've got to look at how your potential competitors are approaching their business, and develop ways to go harder. You've got to be smarter, leaner, quicker, better than the other guy. . . . The key is being nimble and reactive and flexible enough to take your business plan in an entirely new direction, if that's what it takes to ultimately succeed. . . . The idea, really, is to go against the grain, to analyze how your competitors are going about their business and then see if you can go another way with yours.
Competition is a dominant force in business; every company competes for customers. Rather than fear your competition, embrace it and leverage the power of competition to bring out the best in yourself and your business.
Study your competition. How do they market? How do they sell? What do they charge? How can you set yourself apart?
By thoroughly studying your competition, you will fully understand their strengths and weaknesses. "Borrow" their strengths and find ways to improve upon their weaknesses. Keep in mind that competitive analysis is a never-ending process. You must continually acknowledge and study your closest competitors to maintain your edge in business. In the end, ongoing competitive analysis will allow you to sell more deals for more dollars in less time.
Build your network to ensure long-term success
Align yourself with the right people, forge the right relationships, and you'll set yourself up for the long run.
Your network is more valuable than money. With the right network, you can bypass many of the obstacles that you face. Networks grant you access to an inner world that others do not see. Networks give you leverage in a variety of situations when the simple act of mentioning someone's name proves your value and allows you to start a conversation.
Focus on building a network of high-quality people because you will help each other reach higher and higher levels of success. Grow your network based on where you want to go, not where you stand. Sometimes, this means removing long-time friends and acquaintances from your inner circle or at least limiting your exposure to them.
Find ways to add value to your network on a regular basis to nurture your relationship and build trust. Eventually, that value will come back to you in powerful ways that you cannot yet imagine.
Launch a product leveraging word-of-mouth, not money
The key to any successful new product [or service] launch is to start small. Aim too high right out of the gate and you're bound to come up short. Keep it simple and within reach, and at least you'll have some kind of shot. . . . Word of mouth is key at the grassroots level, and that's where you want to be when you're just getting things off the ground on a new venture because, chances are, you won't have a budget for a broader, more far-reaching push. Another key is to focus on quality.
Organic growth is the key to a successful launch of a product or service. While it may be tempting to shoot for the moon in the beginning, you must be patient. Do things with a sense of urgency but realize that others may not share your same sense of urgency. Focus on what you can control, not what you can't.
You can control your work ethic. If you work hard every day on your most important goal, you will eventually succeed. Yes, there are exceptions. (I will never fight in the UFC.) But, success is not a zero-sum game. You may not experience "ultimate" success, but you will experience some success. Focus on the journey, not the destination, and find fulfillment in the work itself, not the results.
You can also, to a large degree, control the quality of your product or service. If you "wow" your customers, they will mention you to their friends and business associates. Word-of-mouth is the lifeblood of any new business, so focus on customer experience. Investing time and energy into an amazing customer experience will provide significantly better ROI than any amount of money that you spend on advertising.
Step back, chill, re-evaluate, try again
Start with the plan, but understand that sometimes that plan is bound to change. . . . The best advice I ever heard (or gave!) was to step back from a series of unexpected roadblocks. Chill. Re-evaluate. Brush your shoulders off and come back to it in an entirely new way.
On your journey, you will encounter countless roadblocks: money will get tight, your supplier will ship the wrong product, someone will write a bad review. Instead of worrying about these things, take steps to mitigate these risks by creating plans to fix problems before they happen. This planning will save you time, energy, and money when the problem does happen and help your brand maintain its reputation for quality.
No matter how well you plan, you will experience setbacks in your business. But, if you expect them before you start, you will be in a much better position to deal with problems as they arrive. The key lies in the expectations that you set for yourself and your business.
The great lesson
And so the great lesson of my time on Shark Tank is this: our personal brand matters most of all, and we need to pay attention to it, nurture it, and make sure it fits with whatever we're doing or making or selling. Real and tangible business happens in the balance between the personal and the professional. It's basic. . . . Understand how other people see you and you're in a better position to see yourself.
Above all else, you must build your personal brand. Businesses come and go. But, you will always have your personal brand. It is the one brand that will stay with you throughout your entire life, so treat it with respect.
Understand that you control your personal brand. The way you act, speak, and dress speaks volumes about your character, your personal brand. In a big way, your customers' opinion of you and your business is often a reflection of your opinion of yourself and your business. If you want customers to show respect for you and your business, you must first show respect for yourself and your business.
Start with a strong personal brand and build from that point. Your personal brand will afford you opportunities that money cannot buy, so treat it with care. Focus on cultivating high-quality, human relationships with customers and prospects.
Remember, business is not B2B or B2C. Business is H2H, human to human.
To be successful in business, as a person or a corporation, you must connect with people, not a mass of brick and mortar. Yes, you want to be professional in your interactions with others, but true professionals act like humans, not robots.
As Daymond John said, understand how other people see you. By listening to your customers, you will not only learn a great deal about yourself and your business, you will also be in a better position to relate to your customers and truly understand their problems. As a result, you will build a foundation for future success: long-term business relationships based on mutual respect and trust.