This Thanksgiving, I wanted to do something different. Rather than giving thanks for my family and friends, I decided to give thanks for bacon.
You see, everyone gives thanks for their family and friends on Thanksgiving. While I greatly appreciate my family and friends, I find it rather cliché to post about it for the whole universe to see. Besides, everything is "Thanksgiving" when it comes to family and friends.
Over the years, I have unwittingly branded myself as the "bacon guy." So this year, I decided to give thanks for bacon–that tasty meat that makes us happy and makes me famous.
It started with a post on Facebook.
After several minutes, the post began to pick up steam with friends sharing their personal feelings towards bacon. Here are a few responses.
I already did . . . TWICE!!! – Kunal

#red wine – Meghan

I do everyday. – Jason
Meghan's response caught me off guard.
"Are you suggesting that I drink red wine while eating bacon?" I asked. "Because that sounds like a fantastic idea."
"But of course!" replied Meghan. So I put on my shoes, walked to my car and drove to the grocery store.
Along the way, I started to brainstorm how to prepare my bacon that day. Yes, I could simply cook it and eat it. But this is a day of thanks (and unfathomable gluttony). "Cook it, eat it" would not do. No, I needed to blaze a new trail.
And then, it hit me. A flash of inspiration.
Merkts.
Backstory
Several years ago, I attended a two-day-long bachelor party for my friend, Eric. The destination? Milwaukee, WI. But first, we needed a rallying point. For this, the best man (Eric's brother Adam) choose the Paradise Pup–a burger joint known for their use of Merkts cheddar cheese.
Once Adam confirmed that everyone was present, we proceeded to gorge ourselves on char burgers and fries. It was magical.
Merkts Bacon Breakfast Sandwich
That memory ignited a source of creative energy within my mind and inspired me to create something new–the Merkts Bacon Breakfast Sandwich. Pay close attention as the following recipe is likely to alter the direction of your life.
Ingredients
5 strips bacon
1 egg
1 pieces black Bavarian rye bread
4 tablespoons Merkts sharp cheddar cheese spread
Directions
Fry bacon strips in pan and cook until desired doneness is reached. Fry egg in bacon grease and cook until desired doneness is reached. As egg cooks, toast two pieces of black Bavarian rye (or other) bread.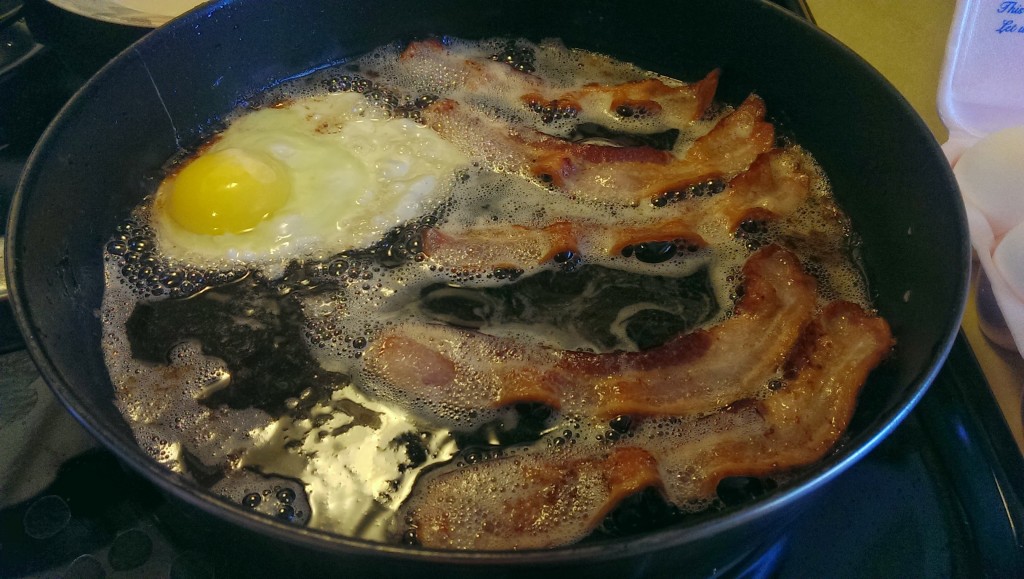 Smear four tablespoons of Merkets sharp cheddar cheese on each piece of toasted bread. (The more, the better.)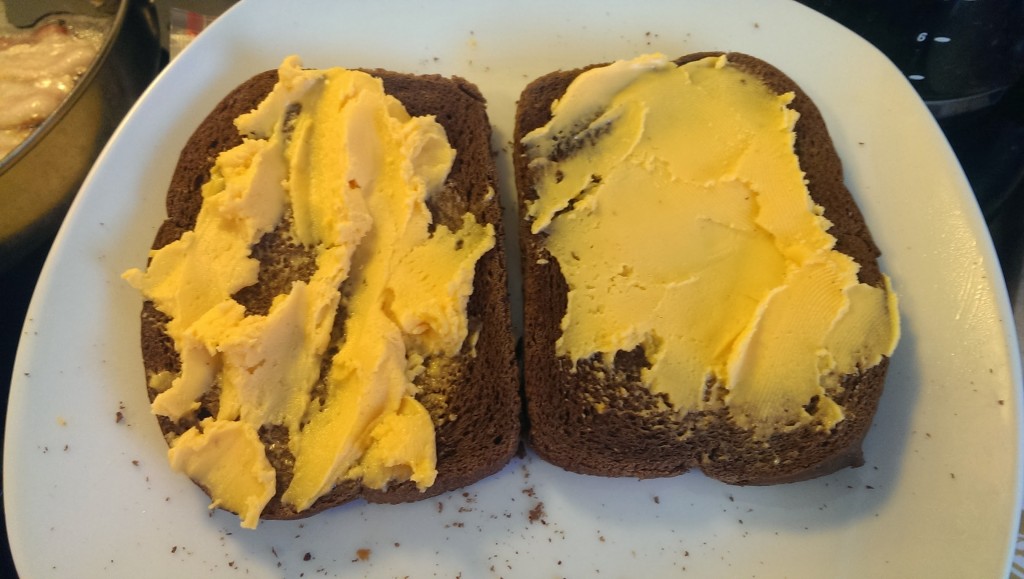 Evenly arrange bacon strips on one piece of toast and top with fried egg.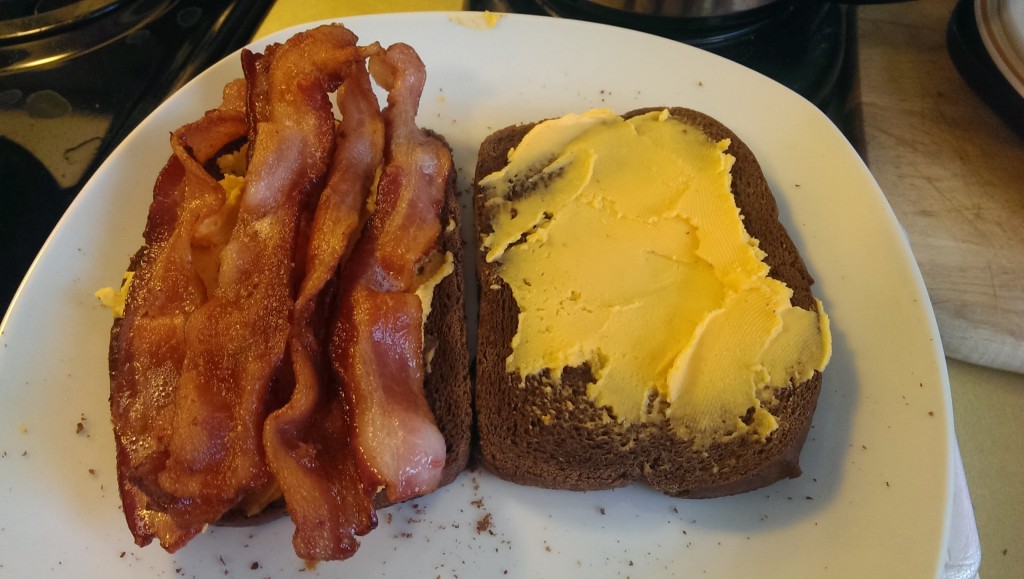 Place second piece of toast on top to complete sandwich. And enjoy!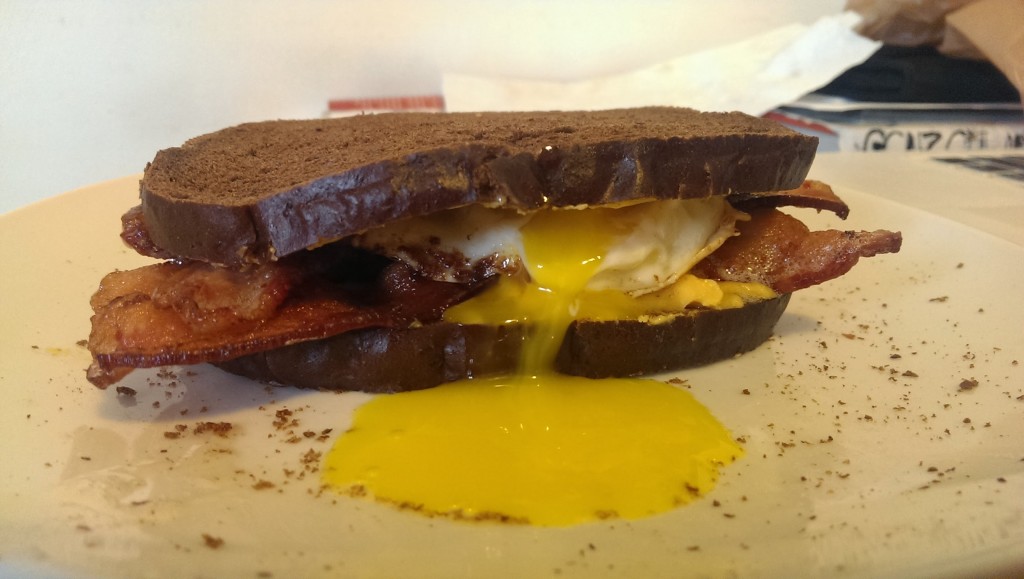 Did you try this recipe? If so, leave a comment and share your thoughts!