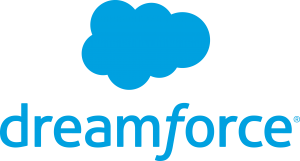 This week, 170,000 people from all around the world will converge on San Francisco for Dreamforce, Salesforce's flagship event and one of the largest corporate events in the world.
But there is something special about Dreamforce 2017: I will be there!
That's right. For the first time, I will be going to Dreamforce, a goal of mine for the past four years.
Now, sitting on an airplane at 25,000 feet or so, I have the opportunity to share this story with you, specifically how I got an all-expenses-paid trip to the coolest (read: nerdiest) event in the world.
I hope you enjoy my story.
I first learned about Dreamforce four years ago when I was a Salesforce administrator. I wanted to go so bad. Unfortunately, Vistex, the software company I worked for at the time, did not see the value in Dreamforce. They thought it was just a sales event, nothing more. Besides, we had not yet implemented Salesforce. So they did not think it was relevant yet.
"Maybe next year," they said.
While I was pretty bummed, I knew I would get my shot eventually.
The next year, I asked if Vistex was willing to invest in Dreamforce. Vistex had been using Salesforce for eight or nine months by that point. So I thought attending Dreamforce was a no-brainer. I was wrong again.
"Not this year," they said. "Maybe next year."
I realized then that Vistex would never invest in Dreamforce. As frustrating as that was, I knew where I stood in the organization–pretty low on the totem pole–and accepted that Dreamforce was not in the cards at Vistex.
Several months later, I landed my first Salesforce-only job as the Senior Salesforce Administrator at Mediaocean, an advertising software company.
My first seven months at Mediaocean were intense, involving a global rollout of Salesforce. As a solo admin, I had a lot on my plate: 280 users, five Salesforce products (Sales Cloud, Service Cloud, Community Cloud, Knowledge, and Salesforce CPQ), and integrations with Marketo, NetSuite, and a few other platforms.
"Surely, Mediaocean will send me to Dreamforce this year," I thought. After all, I did an awesome job on the project and kept things running smoothly after go-live. Unfortunately, I was wrong again.
"Maybe next year," I heard for the third time.
Rather than send me, the technical expert, Mediaocean sent a business user with only a mild interest in Salesforce. I was furious.
"This is completely unfair," I thought. "I am the technical expert. Why won't they send me?"
After a few days–or weeks–of pouting, I had an epiphany.
It dawned on me that, unless I wanted to keep hearing "maybe next year," I needed to change my approach. It was not enough to tell my bosses about all of the cool stuff I would learn at Dreamforce. I had to show my bosses why sending me to Dreamforce was a good business decision.
That is a critical point that applies to every aspect of your Salesforce career, not just attending Dreamforce. If you need your company to buy into an idea, you need to sell them on the business value of the idea, not just the technical value of the idea.
In general, executives, the people with the money, don't care about technology. They see technology and the people who operate it as an expense, not an asset. So you have to show them why the cool tech thing you want to do or buy will either make or save the company money over time.
Tech nerds like myself love bells and whistles. We want to know everything there is to know about bells and whistles, the different types of bells and whistles, how you play each bell and whistle, etc.
Executives, on the other hand, don't care about bells and whistles unless you show them how those bells and whistles will increase revenue or decrease expenses. It is your job, therefore, to show them how your bells and whistles will do one or both of those things.
"This bell will help us sell faster, and this whistle will help us lower shipping costs."
When you frame your bells and whistles like that, your managers will be a lot more willing to buy them.
Dreamforce is no different.
After starting my current role in May, I put Dreamforce on my list of must-dos for 2017. Even if I had to pay for the whole trip myself, I was bound and determined to go to Dreamforce 2017.
I knew what I needed to do: get someone to cover my flight, hotel, food, and ticket. If I got those four costs covered, I would be home free. But I had some major challenges, the biggest of which was getting my hands on a ticket. That is where networking came into play.
You see, I got a phone call several months ago from Jason Noma at Salesforce to discuss my experience with the Vetforce program, Salesforce's program for military veterans. Vetforce has been a critical piece of my Salesforce career puzzle. So I was happy to chat with Jason and share how Vetforce helped me and continues to help me.
Near the end of the conversation, Jason asked me if I was going to Dreamforce.
"I want to go," I said, "but I am not sure if I can swing it."
Then, I had a crazy idea. (I get a lot of crazy ideas.) I told Jason how cool it would be to have Vetforce ambassadors at Dreamforce to represent the program. Jason was one step ahead of me and said he had already been working on that idea.
"Awesome!" I said. "If you need volunteers, I am happy to help." (I winked at and nudged my phone several times.)
Jason said he would keep me in mind and let me know how things developed.
A few months later, I got an email from Jason asking if I was still interested in going to Dreamforce. I said I was.
"You are on my short list," he said. But Jason still had some logistics to handle on his end. Still, I was optimistic everything would work out and I would finally go to Dreamforce.
Within a week or two, I got an email from Jason telling me I would be interviewed for a spot on the "Vetforce Dreamteam" at Dreamforce 2017. If I was selected, I would be given a ticket to Dreamforce and invited to attend a few Vetforce-exclusive events during the course of the week.
I was pumped. I had my shot and scheduled my interview for the first week of September. I was ready.
Serendipitously and coincidentally, I made my first journey to San Francisco in September to begin my journey to become a Salesforce Certified Instructor. While in SF, I had the opportunity to have dinner with Jason and two of my colleagues at Simplus. We had a great conversation about Salesforce, philosophy, military life, Vetforce, food, philanthropy, and more.
The next day, Jason called me for my interview. We talked for a while about Dreamforce, life, Vetforce, networking, etc. At some point, Jason extended an offer to join the Vetforce Dreamteam at 2017. I humbly and happily accepted.
"Yes!" I screamed in my head. "I did it. I finally did it. I got a ticket to Dreamforce."
But I wasn't done yet. I still had to convince Simplus to foot the bill for my flight, hotel, and food.
With insights from Vistex and Mediaocean in mind, I knew I needed to show why sending me to Dreamforce was a good business decision. So I got to work and made a list of the business benefits of sending me to Dreamforce, all of which revolved around increasing sales.
Then, I wrote up a proposal and sent it to the executive in charge of planning for Dreamforce. Here are the benefits I sold to our executive team:
give core and CPQ demos
serve as a technical resource for core and CPQ sales reps
generate leads via networking events and one-on-one conversations
represent our new training team and discuss our soon-to-be-released training capabilities
After a few weeks and several email volleys, my flight, hotel, and food were approved. I can officially say, "I am going to Dreamforce!"
This week, I will be sending you updates from Dreamforce, sharing who I meet and what I learn throughout the week
Now, I want to know: Will you be at Dreamforce? If so, let me know!