In April 2013, I attended my first Salesforce event. It felt amazing to be surrounded by so many like-minded people.
I knew then that I wanted to work in the Salesforce world, but I had a problem: I was a Salesforce newbie with no experience or certifications. At that point, I barely knew what Salesforce was.
Today, clients, peers, and recruiters see me as a Salesforce expert. In fact, a recruiter recently told me, "Your Salesforce experience is remarkable," although I think they were using flattery to poach me.
How did I do it?
I knew where I stood in The Salesforce Expertise Matrix and used that knowledge to develop my Salesforce career strategy.
The Salesforce Expertise Matrix
The Salesforce Expertise Matrix is a framework I created to help explain the four types of Salesforce professionals.
You can use the matrix to better understand where you are in the Salesforce world and how to get where you want to go.
To get started, identify which type of Salesforce professional you are using my Salesforce Expertise Matrix.
The Expert: You have Salesforce experience and Salesforce certifications.
The Hustler: You have Salesforce experience but no Salesforce certifications.
The Scholar: You have Salesforce certifications but no Salesforce experience.
The Newbie: You have neither Salesforce experience nor Salesforce certifications.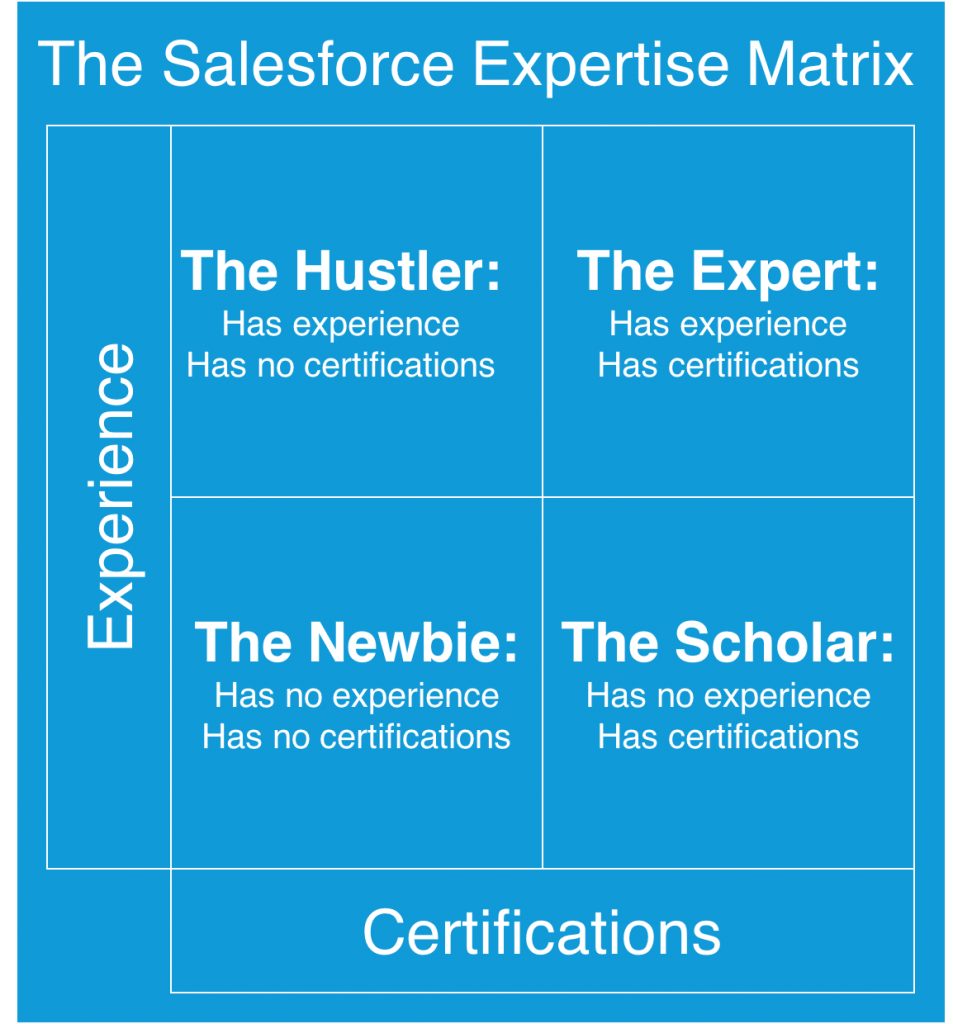 Over the next several weeks, I will expand on each type, providing strategies and tactics you can use to start and grow your Salesforce career.
In the meantime, leave a comment and share your type and some of the challenges you are facing in your Salesforce career right now.